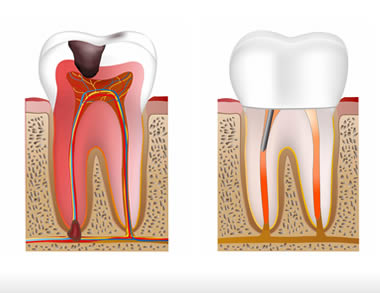 Get closer to your teeth with Abbey Road Dental!
One of the main reasons teeth hurt is because of dental decay. This begins when enamel starts to break down and tiny areas of decay develop on the surface of the tooth.
"Bad" bacteria naturally present in the mouth create an acid bi-product which in turn eats away at the teeth, starting the process.
At some stages of decay, the teeth can be recovered with appropriate dental work coupled with improved oral hygiene. However, if it is left too late, a different level of dental restoration may be needed to restore teeth. Indeed, if left too long, it may not be possible to save the tooth.
It is a really good idea to understand the stages of decay so that you can be aware of your own oral health, and how to prevent things from getting any worse, alongside the guidance of your dentist.
Stage 1
The very first stage of tooth decay is when little white patches appear on the very outer layer of the teeth. This happens because the tooth is starting to lose calcium, and plaque has started to build up. As the bacteria in the mouth produce more acid bi-product, the tooth begins to slowly demineralise. This stage of decay is a really important warning sign and can even be reversed or stopped in its tracks by the correct treatment. Your NW8 dentist can speak to you about caring for your teeth and stopping the progression of any decay. As well as treatment, we will also emphasise the importance of an excellent dental hygiene regimen.
Stage 2
During the second stage of decay the lower level of enamel begins to deteriorate and there is no decay reversal available at this stage. The enamel and minerals will degrade and cause a small area of damage. The decay will continue to cause damage at this stage and the tooth will weaken and become susceptible to breaking. In the event that your tooth breaks you should always seek dental attention quickly.
Stage 3