Abbey Road Dental is here to support all members of the family in maintaining a healthy, happy smile.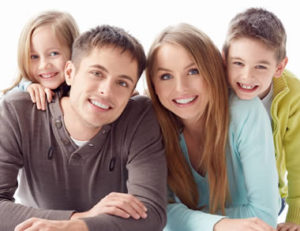 Our local team in St John's Wood has a reputation for offering excellent cosmetic dentistry treatments such as teeth whitening, veneers and adult teeth straightening. This is how you may have heard of us, but did you know that we are also a family dentist?
The latest cosmetic dentistry techniques are a core part of our services, but at our heart we are also a family dentist. We take pride in offering a broad range of  high-quality dental treatments and services for the entire family, from pregnancy right through to implant-supported dentures for the elderly.
If you're thinking of joining a new family dental clinic in the NW8 area, Abbey Road Dental should be at the top of your list. Here's an overview of the wide range of family dentistry offered here in Abbey Road:
Thorough Examinations For All The Family
Oral check-ups are incredibly important when it comes to preventing common dental issues like decay and gum disease. Regular checkups also allow us to look for any signs of these issues, acting quickly on any signs and symptoms.
Doing this, and checking any existing restorations, means that we can help you to avoid any lengthy treatment plans moving forward. We also check for signs of oral cancer as standard, so that should there be any issues, you have the best possible chance of a positive outcome because of early identification.
Oral Care During Pregnancy
During pregnancy you can be prone to a range of dental issues because of the way that your body changes. Pregnancy gingivitis, morning sickness and cravings can all have an impact on your teeth and gums. We can provide extra support and guidance during this time so that your oral health remains in great condition as you focus on your pregnancy.
We can also act in advance of you trying for a baby if you let us know. Some treatments you cannot have during pregnancy, like X-rays. So, if you do have dental issues or work planned, letting us know before you start your baby plans means we can provide that treatment before you become pregnant.
Baby's First Appointment