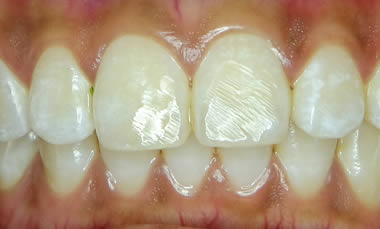 The latest dentistry treatments at Abbey Road Dental in St John's Wood!
Abbey Road Dental is proud to offer patients the latest in dental technology and treatments. We have a wide range of general, cosmetic and restorative treatments that help prevent oral issues, treat any problems and to completely transform the look of the smile if aesthetics are of concern.
Cosmetic dentistry is incredibly popular at our NW8 clinic in St John's Wood and one of the latest transformative treatments we are proud to offer, is Icon white spot removal.
Harmless white spots on the teeth can be something patients wish they didn't have and earlier techniques to treat them was typically extensive and often expensive. With Icon, treatment is a lot simpler and much more convenient and we are extremely pleased to offer it here at at Abbey Road Dental.
What Are White Spots On The Teeth?
White spots on the teeth are extremely common and you likely have them yourself, or you know somebody who has them. They don't necessarily tarnish a smile, but for some people they are a problem and are something they wish was not on their teeth.
It is important to note that the white spots on the teeth are not usually harmful in any way or a sign of any dental problems.  They simply signify a loss of minerals on the enamel of the teeth. When they appear, sometimes patients can opt for a teeth whitening treatment which doesn't actually treat white spots. Teeth still become whiter overall but the white spot remains in place, whiter than the rest of the teeth.
What Is The Cause Of White Spots On The Teeth?