The Spotlight On Dental Implants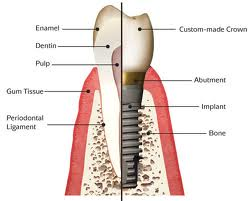 Advanced replacement of missing teeth in St John's Wood.
Dental Implants are considered by many to be the 'gold standard' in tooth replacement and we are extremely proud to offer them at our NW8 clinic in St John's Wood.
Although dental implants have been around for a long time, it is only within the last decade that the treatment has truly been refined. An incredibly effective tooth replacement solution, implants look and feel as similar to natural teeth as is currently possible within modern dentistry.
If you have missing teeth and want to know how you can restore your smile with the latest in treatment technology, please take a look at our spotlight on dental implants here in Abbey Road.
What Are Dental Implants?
Dental implants are a replacement for a missing tooth root, providing strong support for the tooth replacement at the gum level. The devices are made using titanium and are designed to be extremely durable and as similar to a natural tooth root as possible.
The implants are usually placed following a detailed consultation, and then left to bond with the jawbone for a few months, sometimes more. Once they have bonded with the jawbone the full restoration can be completed, and the implants themselves can last a lifetime if cared for properly.
Who Provides Dental Implant Treatment At Abbey Road Dental?
Several team members at our NW8 clinic will be involved in your dental implant treatment including hygienists and nurses and even our friendly reception team who are on hand to make sure you get the information you need. However, leading your implant treatment in our clinic will either be visiting restorative dentist David Bloom, or implant surgeon Guy Mclellan.
David Bloom – Implant Dentist
David Bloom has extensive experience in dental implant work and his knowledge and experience is often utilised by the media. David has worked on Extreme Makeover UK and has even worked on smile transformations for celebrities Ben Foden, Sophie Anderton, Kieran Bracken and Tulisa Conlostavlos.
Mr Bloom is a big believer in preventative dentistry, but if treatment is required, his preference is to provide a comprehensive diagnosis so that all choices of treatment are considered.
Guy McLellan – Implant Surgeon
Guy McLellan has extensive experience in dentistry and medicine and has a huge amount of accolades and accreditations, as well as awards to his name. Dr McLellan has been working in implant dentistry since 1994 and continues to work as part of the Cranio-Facial team at Chelsea and Westminster Hospital.
Dr David Bloom and Dr Guy McLellan may work together on specific implant cases. Regardless of which team members work with you, you can be assured you are in good hands when you choose Abbey Road Dental for implant treatment.
Different Types Of Implant Treatment
Dental implant treatment is not a one size fits all treatment and it is important to know about all of the options available to you when you consider it.
Single missing tooth
Single implant treatment is the best way to replace each individual tooth root, but is also the most lengthy and expensive way to replace an entire mouth of missing teeth. Whether you place one singular implant, or several single implants throughout the mouth, the implants will take about 3-6 months to bond with the jawbone. Once the bonding process is complete we can attach a high quality crown to the implant abutment, which is the part that allows us to connect the crown to the implant itself. In some instances we can attach the crown immediately, or we may attach a temporary crown while the implant heals. Once the single implant is healed and the crown is in place, the restoration will feel as similar to your original natural tooth as is currently possible within modern dentistry.
Implant supported dentures
Implant supported dentures are dentures that are held in place securely by implants placed in the jaw. This is in comparison to traditional dentures which have a plate that fits over the entire roof of the mouth, and they are held in by natural suction and sometimes denture glue as well.
A person who has implant supported dentures will have enough jawbone to hold implants, but no teeth in either or both arches. They may have struggled with dentures that would not stay in place, or a consistent need for new dentures to be made.
Implant supported dentures require daily removal and cleaning as with regular dentures, and you do not sleep with your dentures in.
Implant supported bridges
Implant supported bridges are similar to regular bridges only they are held in place by implants rather than by crowns or attachments on the surrounding natural teeth. A bridge might be used when more than one tooth is missing or if individual unconnected implants are receiving too much pressure from grinding or the movement of the mouth. Bridges that are placed and held by implants are usually fixed in place and are not removable.
All On 4
All On 4 is an incredible type of implant treatment that allows us to provide patients with a new set of teeth in just one appointment. Following a detailed initial assessment, on the day of treatment 4 implants are placed carefully into the jaw being treated. Instead of four single implants being placed, two at the front are as standard and then the two at the back are placed with an angle, to maximise their strength and stability. Once fitted we can attach fixed bridges to your implants so you can leave our St John's Wood clinic with a new smile in just one day! The implants though, will still require the same amount of time as standard implants to heal and bond with the jawbone.
It All Starts With An Implant Consultation
Before any implant treatment can take place we require patients have a detailed assessment with us. This is not only to assess eligibility for the treatment, but to ensure patients understand what is involved. We want you to have the chance to ask any questions that you may have, and to gain a complete understanding of this revolutionary treatment.
In some instances patients may not be suitable for implant treatment. If this is the case, we will provide you with a wide range of alternatives to choose from so you do not have to miss out on restoring your smile back to health.
If you have struggled with missing teeth for too long, and you want to know more about the most modern method of tooth replacement, please get in touch. You can reach our reception team on 02076241603 to book a consultation today. We're always pleased to help patients just like you take advantage of this innovative treatment for missing teeth!