How Dentists Save Root-Infected Tooth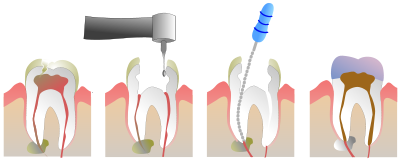 Endodontics In St John's Wood NW8
Although there are many excellent tooth replacement techniques within modern dentistry, nothing quite compares to a natural tooth which has been designed to look, feel and function in the perfect way. Brushing every day for two minutes along with attending checkups with Abbey Road Dental every 6 months will go a long way to helping you keep hold of your natural teeth, hopefully life-long.
Because of various different factors, teeth can become infected or diseased and require some extra care. Here at Abbey Road Dental, we work hard to ensure disease or infection is prevented, but if it does happen, we will always try our hardest to save your natural teeth. Even teeth that are not very visible should be saved where possible, because a missing tooth anywhere in your mouth can have a negative impact.
It might seem tempting to take a tooth out because it will be cheaper, quicker or more convenient than having other treatments. However, when you have a tooth extracted the gap may cause surrounding teeth to move, changing the position of all your other teeth. This could affect your speech, your eating and the way your smile looks. Despite all our tools, skills and abilities, extraction can often be more problematic than a tooth infection and replacing the tooth will take a fair few visits in some cases.
Endodontics – dentistry which focuses on clearing infection from inside the tooth – can help to save your teeth because the technology behind it is advanced and refined over many years, and it is just one of the treatment options we can use depending on circumstances.
Here at Abbey Road Dental we will always make sure you are aware of all of your different treatment options and how they will affect your future smile health. It is always a priority to ensure your natural teeth remain in place for as long as possible, and endodontic treatment can help you keep those natural teeth if you do suffer an infection or dental disease.
What Endodontics Does
Endodontics is more commonly known as root canal treatment. If you experience pain and swelling, your St John's Wood dentist would like to see you quickly to diagnose the problem. It may be that the pulp of the tooth is infected and a treatment like root canal is needed. If root canal therapy is an option your endodontist will remove the pulp of the tooth to try and clear the infection. This procedure is nearly completely pain free and during recovery you should experience minimal discomfort. If the infection is left, it will continue to get worse and cause further infection and damage, causing a lot more pain and eventually the need for extraction.
Prevention Is Always Better Than Cure
Root canal treatment is always a better option than tooth extraction and where we can offer it, then we will. Of course, a focus on prevention will always be our top priority here at Abbey Road Dental. Brushing twice a day for two minutes and attending checkups with your dentist and hygienist every six months is an excellent routine. If you're behind on checkups with your dentist, please call us on 02076241603 and we will be more than happy to book you an appointment at a time convenient to you.